Dog Bone Pet Placemats!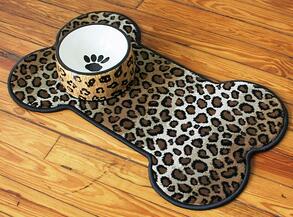 Hello! Thanks for your interest in our dog bone pet placemats.
Our bone pet placemats protect your floors with style. Choose any of our Couture line of luxury-weight, stain-resistant carpets.
For a bold look, our woven polyurethane carpets come in both traditional and contemporary designs.
Our Subtle Style carpet, available in beige or grey, is specially made with high-quality nylon yarn that is cut to create a simple and elegant two-tone texture. All our mats are made with the best materials to resist stains and mold.
Each mat is finished with a matching serged edge and a non-slip foam backing. And you can also get matching floor mats for your home.
Want a 10 percent discount off your entire order?
Sure you do! Just fill out the form to the right and we'll give you a voucher code good for 10 percent off your entire order from GGBAILEY, whether you're shopping for pet placemats, home placemats, or custom car mats.